Filmmakers Guy Mannion and Thomas Mitchell recount their journey as producers and business owners in Dubai as their production house, 815 Studios, completes five years.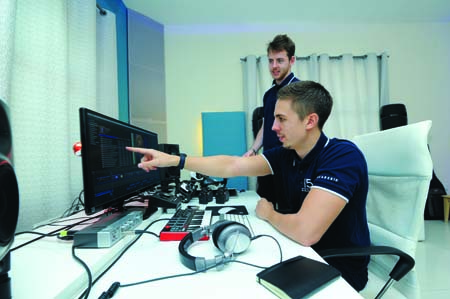 Filmmakers Guy Mannion and Thomas Mitchell recount their journey as producers and business owners in Dubai as their production house, 815 Studios, completes five years
2017 has been a good year for 815 Studios, a UAE-based production house helmed by co-founders Guy Mannion and Thomas Mitchell. Just as the production house marks its fifth birthday, it has also ushered in a new phase in its production journey by bagging its first TV show.
The production house recently delivered the pilot episodes of a home-grown reality TV show, which is claimed to be a first-of-its-kind in the region. Conceptualised and produced by Pandre Group, the show is being co-produced by 815 Studios as the core production house to facilitate and develop the show format, and ultimately deliver the final project.
Production and rental company Atlas Television was contracted by Dubai-based agency JK58 to cover the live performances.
Atlas took care of the live performance coverage, which required a five-camera setup using the Sony PMW-300 cameras: two cameras were on tripods, two moveable cameras were on-stage and in the audience, while the last camera was fixed above the venue as a safety wide shot.
815 Studios produced the segments and handled the post production. Guy Mannion, Chief Executive of 815 Studios, who co-founded the studio with longtime friend Thomas Mitchell, COO, says the production house has completed two pilot episodes of 30 minutes each.
"The show is called LMYW Presents (Love Music Your Way) and we have shot an hour of content for that. It is presented by music enthusiast Deeves. The pilot episodes were filmed in Lucky Voice Dubai, a karaoke bar. Each episode will feature two artists every week who perform live in front of an audience," Mannion comments.
In addition to live recordings, the show will also feature interviews on stage, interviews before and after the gig, and fun and engaging segments.
The karaoke bar was converted into a TV set to film the show. The show's segments were shot on a combination of Sony Alpha 7r and 7s, and the audio equipment for live recordings was supplied by the show partner, Sennheiser.
Sennheiser supplied the Digital 9000 system with three SKM9000 handheld microphones and the SK9000 bodypacks to be used by the artists at all times during interviews and karaoke sessions. The audio output from the EM 9046 was transmitted to a Pro Tools rig for recording and availability for post work. The output was also simultaneously transmitted to the EK 6042 dual-camera receiver for certain one-on-one interviews.
Additionally, two AVX systems as well as EW 300 IEM's for all the artists and presenters were on hand. All the wired mics on stage were Sennheiser Evolution mics.
"The idea is to feature various international artists, some of who will be flown in to perform for the show," says Mitchell, adding that it's an interactive show where the performers will have a chance to interact with each other as well as the audience, and create interesting content for viewers.
"We are using Apple Final Cut Pro (FCP) for editing. We have two edit suites in our studio and both operate FCP. In order to add some more interesting elements to the show, we added artists' interviews to the original footage of the karaoke sessions. Everything was filmed at the venue," says Mannion.
Mannion and Mitchell, both in their mid-twenties, seem quite excited about their first TV show. The two have been friends since they were 12 and have come a long way following their passion for filmmaking.
The production house was set up in 2012, when the two were barely 20 years old. The duo began by producing social media videos for Virgin Megastore, which gradually progressed to TVCs and corporate films. As they expanded their scope of operations to commercials and corporate films, their client portfolio began to grow as well. The studio has also been associated with a number of live events.
"We have executed production and post-production for many high-profile events in Dubai, and have also produced numerous music videos for international artists.
We were selected and contracted as the official video production company for Global Village's landmark 20th season this year," Mannion says.
"ARN has been a very big client; we have done TVCs, films, documentaries and several other projects for them. We completed a 24-hour-straight documentary shoot of the Kris Fade Show for Virgin Radio, completing the '24 Parties in 24 Hours' campaign," Mitchell adds.
The pair agrees that their passion for filmmaking has fuelled their growth so far. Five years into the business, their team has grown to four and they are looking to add a fifth.
The production house has hired award-winning DoP Daniel O'Flaherty, who is known for his work on Sunday Dinner With The Morgans (2015).
Music is a strong element of their productions and they define their style of production as clean, with certain story elements standing out to connect with the viewers.
They say track selection is the key in post: "We make sure all our content for every brand is consistent and keep the key elements and themes throughout the video. We have an in-house music composer who originally produces the soundtrack and core themes to every single project we complete, from scratch."
The pair studied filmmaking for three years before moving to Dubai to set up their own production house.
"It's been a slow progression. We were handling everything in the beginning. Between the two of us, we were handling pre-production, camerawork and post. Now we have hired a DoP and are scouting and shortlisting applicants from around the world for a Creative Producer. For bigger projects, we hire freelancers from the UK," says Mannion.
815 Studios' productions are not limited to local projects; the company has been associated with international projects that involved shooting in New York and Male. Both Mannion and Mitchell attribute their growth to word of mouth and networking.
"We have never actively promoted our work, because we feel our films speak for themselves. We are very flexible in the way we operate. For instance, we don't limit the number of edits for our projects, we work with clients even if there are several rounds of edits required," says Mannion.
New technology is another area that fascinates the team, who are presently experimenting with 360-degree filming and virtual reality.
"We invested in a GoPro Omni when it was still very new to the market. I think it's an amazing piece of equipment with very smart software that makes it very handy for 360-degree video and VR. It offers a system for creating high-quality videos that can be viewed on VR headsets like Oculus Rift," comments Mitchell.
The production of viral videos and after-movies is keeping 815 Studios quite busy these days. The filmmakers use drones and Sony Alpha 7s quite extensively on these.
"The after-movie concept is very popular in the West. We condense big events such as RedFest DXB into five-minute capsules using time lapse and other techniques. It's like a highlights video that explains what the event is all about. We show all the brands that are present and also cover the event sponsors, the various brand activations, guest experience and so on," Mitchell comments.
The filmmakers are now working on a number of new projects including some commercial and corporate projects for Damac Properties, Legoland Dubai and 117 Live.
"We are also planning our first feature fiction film that will be in the works over the next few years," adds Mannion.